Welcome, Readers!

If you've not visited me before, I hope you'll stick around to scope out my site, learn more about me and my books, read excerpts, and generally snoop – just as my characters like to do!
450th Commemoration! Remember to take a peek at the Spirit of St. Augustine page for information on upcoming events celebrate our Spanish heritage, all events culminating in the 450th anniversary of St. Augustine's founding!
OLDE CITY, NEW BLOOD! Okay, this event has nothing to do with our founding, but it's sure to be a hit! This author-reader-blogger mini-con is slated for February 8-10, 2013 and features a long list of amazing urban fantasy and paranormal authors. (Yes, men authors, too!) To see the amazing list of featured authors and bloggers, and for registration, please visit here.

Find me on the Web here:
Newsletter |Facebook |Twitter |Shelfari |Goodreads |About Me
Happy Reading
Nancy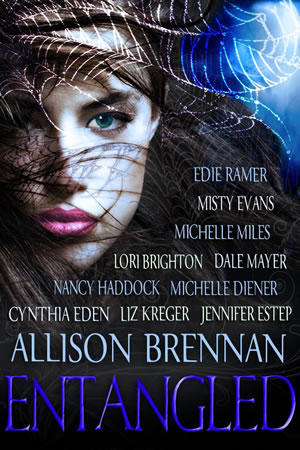 Ghosts, vampires, demons, and more!
Entangled includes ten paranormal short stories from authors Nancy Haddock, Cynthia Eden, Jennifer Estep, Edie Ramer, Lori Brighton, Michelle Diener, Misty Evans, Liz Kreger, Dale Mayer, and Michelle Miles, plus a Seven Deadly Sins novella by Allison Brennan. Stacia Kane contributed the foreword.
Now Available
Nook | Kindle | Smashwords

Read an Excerpt
All proceeds – 100% -- go to the Breast Cancer Research Foundation.
"I just loved everything about this short story-the main characters had chemistry and the secondary characters were just lovable." ~ A Buckeye Girl Reads